Graduate Certificate in Information Communications Technology
Equip yourself with high-level ICT skills
Complete in 8 months – 1 year
No experience in ICT needed
Request more information
Complete this form to receive information about coursework, admissions, tuition, and more.
Note: All fields required.
Duration

8 months

Cost per program*

$2550

Units

48
Program Benefits
Fast-track your ICT career. Complete the program ready to step into an analyst role in business, data, research or ICT.
Taught by experts. Courses are taught by top practitioners from leading ICT organisations so you gain insider experience.
ITS Python certification. Knowledge and exams are embedded into the program. You save time and money and complete the 'grad cert' with credentials peers from other universities won't have.
Start your ICT career quickly
UniSC's 100% online Graduate Certificate in Information Communications Technology focuses on four courses that you can complete in eight months online, at the times and locations best for you.
You'll learn first-hand from lecturers who share their real-world challenges and solutions with you in managing and visualising data, programming, and management informatics.
When you earn your Graduate Certificate in Information Communications Technology you will:
Know how to manage data, one of the most important assets of a business
Understand the need for data privacy and security
Manage and use data to continually transform organisations
Use programming and visualising data skills to tell the story of data and solve challenges
Gain an ITS Python certification, a highly marketable, globally recognised certification that's embedded into the program
If you decide to pursue the masters program after completing the graduate certificate, you may transfer your graduate certificate credits to the program. This means you only need to complete 10 courses to earn your masters degree.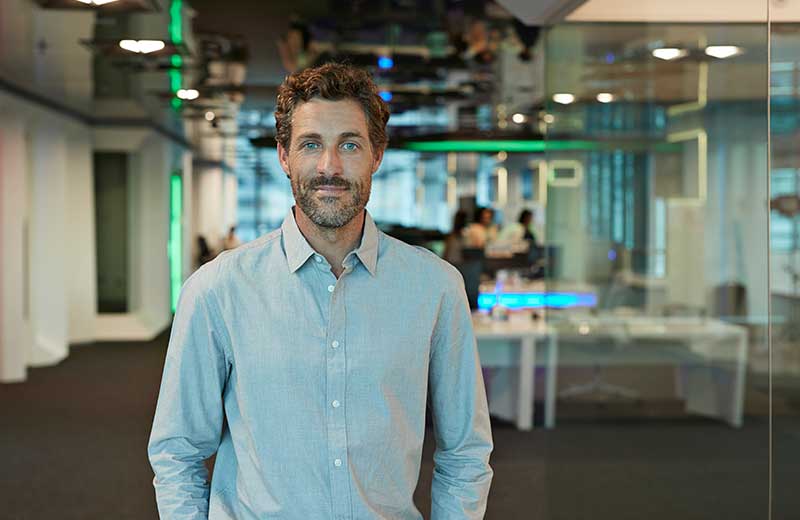 ICT careers are in big demand
ICT is a fast-moving industry. Many of today's roles were in their infancy a bit more than a decade ago, and the thought of using big data was a pipe dream for most companies. Now in Australia, 61% of organisations report using data to drive operational efficiencies,1 and the government reports that five career titles in its Top 25 Emerging Occupations list involve data analytics.2
Business analyst AU$81,2533
Research analyst AU$66,1174
Curriculum: Gain up-to-the-minute experience
The technology industry is fast-paced and ever-changing. The online Graduate Certificate in Information Communications and Technology at UniSC in Australia ensures you're career ready to manage big data and step into an entry-level role as you complete the program with the latest knowledge and an industry certification for ITS Python.
We make sure you graduate work-force ready. We've partnered with the Sunshine Coast Technology Industry Alliance and have an advisory panel made up of the likes of leading IT companies such as Cisco, Dell, Oracle, Next DC, and the Sunshine Coast Council, all of who regularly keep us abreast of trends and challenges so we can pivot our curriculum to get you the latest information.
Courses include
Data is considered the most valuable resource in the world. The demand for accurate and up-to-date data is vital to business success. This course will provide you with skills and knowledge on how to organise and manage data in the new "data economy". With a focus on data management, data curation, metadata, and issues of data preservation and access, by taking this course, you will walk away with one of the most valuable skills needed in businesses today.
A picture is worth a thousand words! Data in a spreadsheet or in a table doesn't tell the same story as a well presented graph. Visually-displayed data is much more accessible, and enables businesses to promptly identify potential strengths and weaknesses and in turn make well informed decisions. Through this course, you will learn to create easy-to-understand visualisations and dashboards to enable decision-makers and stakeholders to see the big picture and act on the results.
This course shows how simple computer programs allow us to read, clean, transform, and visualise real-world data in many different ways. It presents the key concepts and skills of programming, which are an essential foundation for all kinds of scripting and programming tasks in many different application areas, such as business, science, engineering, gaming and web development.
Information technologies are used in every business today, mostly for improving efficiency and effectiveness of routine tasks, to gain a competitive advantage. This course provides managers and administrators, who are the users of such technologies, with an understanding of the managerial and basic technical issues associated with the use and implementation of these technologies. This course explores aspects of information and communication technology that are significant to corporate information systems management, including databases, data security, data communication and emerging trends.
Just 10 courses to complete your masters
If you decide to pursue UniSC's 100% online Master in Information and Communications Technology program after completing the graduate certificate, you may transfer your graduate certificate credits to the masters program. This means you only need to complete 10 more courses to earn your masters degree, which you can do 100% online on a part-time or full-time basis.
Entry requirements: we make it easy to get started
To enrol you need:
A completed Bachelor's degree
Transcripts from your completed bachelor's program*
Resumé or CV
You can apply now.
*We consider professional entry. So if you're applying without a prior undergraduate degree, you just need five years of relevant work experience.
Fee details
Your education is a long-term investment that pays dividends over time with top-paying careers that are in demand.
Even so, we realise that looking at total costs can seem daunting, but we're here to help. Our online graduate certificate is available for FEE-HELP and we have limited Commonwealth Supported Places (CSPs) available for eligible students. We can also help guide you through how to have a conversation with your employers about getting tuition assistance.
Get started today
Get your questions answered and learn more about the online Graduate Certificate program at UniSC today.
Learn more
Frequently asked questions
Please know that you can talk to a real human to get your questions answered. We're always happy to chat with you. You can call us at +61 7 5345 6342 or request more information.
27/02/2023
24/07/2023
06/11/2023
The online program is designed for professionals who work full time and is offered part time with one or two courses every trimester. This allows you to achieve a realistic balance between work, school, and personal responsibilities and gives you the opportunity to fully absorb the information in your coursework.
Yes, if you've completed prior study or have relevant work experience, you may, under specified conditions, be eligible for credit towards the Graduate Certificate in Information and Communications Technology program.
You can complete the program in just 8 months part time.
The online Graduate Certificate in Information Communications Technology is designed to give you advanced ICT skills that can be used to elevate your current position and help you land an analyst role in business, data, research or IT.
Visit our FAQ page
Sources and disclaimer
*Cost shown is with a Commonwealth Supported Place (CSP) applied. There are limited CSPs for our upcoming intake.