Graduate Certificate in Cyber Security
Duration

8 months

Cost per program*

$2550

Units

48
Program Benefits
Workforce ready. Graduate with all the skills and industry certifications you need to step into roles such as a cyber security consultant, cyber security analyst or a cyber risk analyst.
Taught by experts. Our lecturers have cutting-edge knowledge to share with you from incredible, high-stakes careers, having worked with the FBI and the U.S. Department of Defense.
Globally recognised industry cert. Knowledge and exams are embedded into the program. You'll save money and position yourself well ahead of your competition.
Your fast track into cyber security
In UniSC's 100% online Graduate Certificate in Cyber Security, you'll fast-track your cyber career with four core courses taught over 8 months. They focus on digital investigation as well as ethics and security issues in cyber, networks, cryptography, and blockchain. Delivered by lecturers who have vast experience in the FBI and the US Department of Defense, you'll gain insider knowledge and skills.
By graduation, you'll have firm working knowledge and experience in cyber security, network security, cryptocurrency, cryptography, blockchain, cyber laws, programming and digital and network forensics. You'll also understand how to run projects, manage data and make evidence-based decisions.
As part of the program, you'll have earned your graduate certificate and a globally recognised industry certification.
Microsoft (Security, Compliance, Identity Fundamentals)
This credential positions you well ahead of peers who will spend additional time and money earning it.
If you decide to pursue the masters program after completing the graduate certificate, you may transfer your graduate certificate credits. This means you only need to complete 10 courses to earn your masters degree.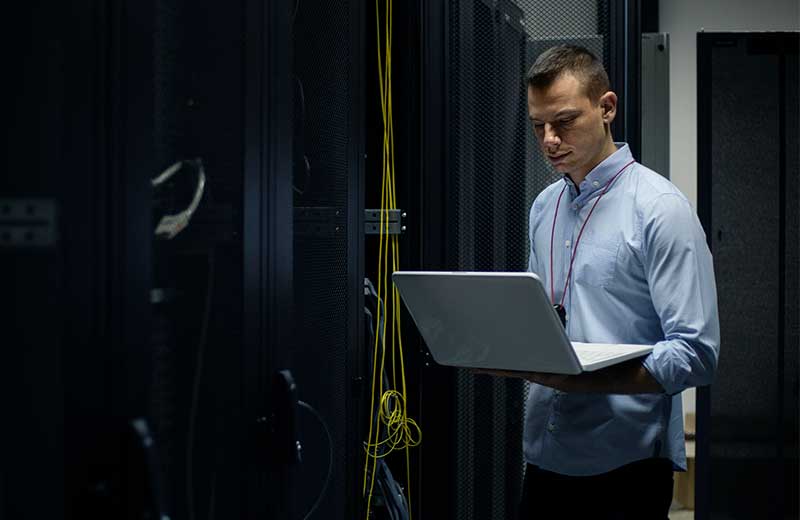 Cyber careers: Big salaries and big demand
The pace of cyber security needs for businesses across the world has exploded, and the shortage of qualified cyber experts in Australia has pushed salaries well into six figures for many roles.1 With cyber attacks happening once every eight minutes to organisations in Australia, and self-reported losses alone totalling more than $33 billion in a year,2 the Australian Government dedicated $10 billion in its 2022-23 federal budget over the next 10 years to develop new national cyber and intelligence capabilities,1 meaning the need for cyber careers is going to increase further.
Security consultant AU $135,0003
Cyber security analyst AU $109,0494
Curriculum: Gain up-to-the-minute experience
The technology industry is fast-paced and ever-changing. The online Graduate Certificate in Cyber Security at UniSC in Australia ensures you have the top skills employers are looking for when you graduate.
We've partnered with the Sunshine Coast Technology Industry Alliance and have an advisory panel made up of leading IT companies such as Cisco, Dell, Oracle, Next DC and the Sunshine Coast Council. They keep us abreast of trends and challenges so that we know how to pivot our curriculum to get you the information you need to succeed in cyber security.
Courses include
In this online course you will be introduced to cybersecurity operations. You will develop the professional knowledge, qualities of thinking and digital collaboration skills needed to prepare you for future technical cyber security courses. You will explore the NIST Cybersecurity Framework and how cyber criminals target individuals and businesses, unlawfully seizing data and identities. You will also identify the dark markets where stolen data, identities and Intellectual Property are traded and how international law enforcement agencies operate to locate and prosecute cyber criminals.
How should digital investigators and cyber security specialists conduct themselves in their profession? How might moral philosophy inform ethical practice in this arena? What does ethical practice in this arena look like? In this online course you will examine ethical challenges for cyber security and digital investigations in the digital environment. You will examine different ethical frameworks that underpin critical decision-making in digital environment investigations and examine ethical issues relating to information management and obligations in respect of managing risks. You will learn to recognise conflict of interests, and how to manage them.
This online professional competency course introduces you to fundamental competencies and skills to effectively secure computer devices and networks. You will specifically develop and test your competency across device and network security vulnerabilities, behaviours and restrictions. You will also develop an understanding of ethical hacking and vulnerability/penetration testing. You will work online independently and in teams through problem based and case study activities and you will be able to diagnose and secure network devices.
A cyber security specialist will use a complex array of tools, methods and applications to investigate and protect information in computer systems. This online course has been designed to introduce you to some cryptography techniques that allow different parties to securely transmit information. The course will introduce blockchain and its growing uses, including cryptocurrencies. You will learn the differences between authentication and security protocols and how private keys are exchanged to establish secure communications.
Just 10 courses to complete your masters
If you decide to pursue UniSC's 100% online Master of Cyber Security and Forensics program after completing the graduate certificate, you may transfer your graduate certificate credits to the masters program. This means you only need to complete 10 more courses to earn your masters degree, which you can do 100% online on a part-time or full-time basis.
Entry requirements: we make it easy to get started
To enrol you need:
A completed Bachelor's degree
Transcripts from your completed bachelor's program*
Resumé or CV
You can apply now.
*We consider professional entry. So if you're applying without a prior undergraduate degree, you just need five years of relevant work experience.
Fee details
Your education is a long-term investment that pays dividends over time with top-paying careers that are in demand.
Even so, we realise that looking at total costs can seem daunting, but we're here to help. Our online graduate certificate is available for FEE-HELP and we have limited Commonwealth Supported Places (CSPs) available for eligible students. We can also help guide you through how to have a conversation with your employers about getting tuition assistance.
Get started today
Get your questions answered and learn more about the online Graduate Certificate program at UniSC today.
Learn more
Frequently asked questions
Please know that you can talk to a real human to get your questions answered. We're always happy to chat with you. You can call us at +61 7 5345 6342 or request more information.
27/02/2023
24/07/2023
06/11/2023
The online program is designed for professionals who work full time and is offered part-time with one or two courses every trimester. This allows you to achieve a realistic balance between work, school, and personal responsibilities and gives you the opportunity to fully absorb the information in your coursework.
Yes, if you've completed prior study or have relevant work experience, you may, under specified conditions, be eligible for credit towards the Graduate Certificate in Cyber Security program.
The online Graduate Certificate in Cyber Security is designed to elevate your current position and help you land roles such as a cyber security analyst or consultant or cyber risk analyst.
Visit our FAQ page
Sources and disclaimer
*Cost shown is with a Commonwealth Supported Place (CSP) applied. There are limited CSPs for our upcoming intake.